Outsourcing is such a dirty word. Unbearable customer service, subpar manufacturing, and corporate downsizing all come to mind when you hear it. But outsourcing has gotten a bad rap.
There's two kinds of outsourcing: outsourcing to drive down costs at the expense of quality ("Hello, yes, hi, thank you for calling Xfinity"), and outsourcing to bring in an expert. We tend to only think of the first example and we seldom realize how often we depend on the latter. Does your family doctor perform open heart surgery? Did you install the plumbing in your own house? No? Whether you realize it or not, those are also examples of outsourcing.
We frequently rely on experts who are both highly skilled and have very specialized knowledge in our day to day lives. Why should designing a software application be any different?
Maybe you've already got an all-star UX team and all the time and resources you need to design your app (congratulations, you've won the lottery), but most product teams in the enterprise suffer from at least one of these problems:
Unable to find/retain top tier talent
Designers are over-extended or shared between multiple projects
No budget allocation for hiring more resources
Designers are inexperienced with new technologies and best practices
Starting a project with any of these deficits is a sure way to build on a shaky foundation. It might not scale, you may miss the deadline, or you may be left with a half-baked user experience. Better to turn to a specialist to fill in the gaps and lead the project to success.
Benefits of Outsourcing
If you think the idea of outsourcing your core product design is crazy, it might actually be you who is taking the crazy pills. Plenty of successful enterprise businesses (Slack, TechCrunch, Virgin America, Google, Salesforce, just to name a few) utilize outside agencies for their product design.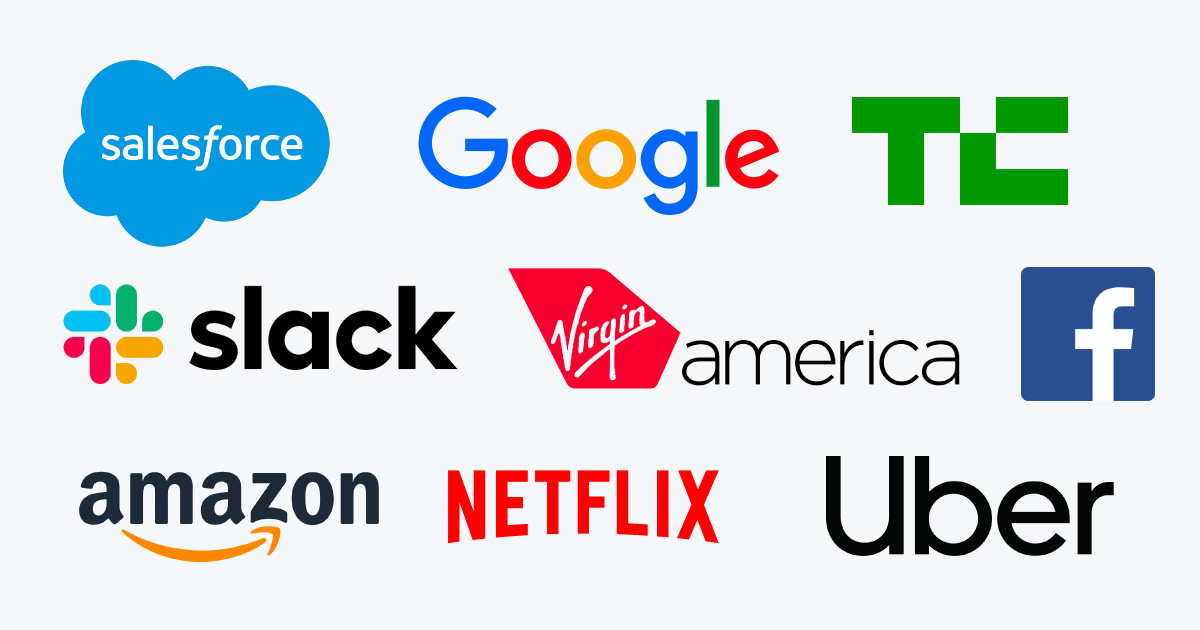 Why would they do this? These companies have their own product design and UX departments. What could they benefit from outsourcing a project?
Disrupt Yourself
Tunnel vision is a very real thing when working in a large enterprise. It gets harder and harder to see things objectively as an outsider or new user. Bringing in some outside help can generate new ideas as well as keep the product current with industry best practices and technology.
Scale with Confidence
Design specialists witness the full product development cycle many, many times over. They've seen first hand what works, what scales, and what leads to problems down the road. Turning to an outside expert is an investment to ensure you aren't drowning in technical debt by v2.0.
Experience Solving the Same Problems
The best designers will tell you that there are a relatively small number of actual UX problems to solve, no matter the product. Chances are, that really hard problem your team is facing is something that's already been solved somewhere else. An outsider can bring that experience to your product and solve the problem quickly without skipping a beat.
How to Use a Design Partner
Hopefully by now you're convinced that outsourcing your design isn't such a bad idea. So what should you use an outside design partner for? It might seem like an obvious question, but there are many ways a specialist can actually help.
Redesigns & Net-new Products
This is the most obvious place to integrate a design partner. Whether it's a bottom-up redesign or a new application, they'll get the project started on the right foot and set the cadence for the rest of the team.
Optimizing Existing UX
Any existing pain points in your app? Any frequent complaints from the end users? A design partner can target these problems to develop better user engagement and increase your product's performance.
Research & Development
Get a new take on your product or a better vision on what you're building. Design specialists are great at rapid prototyping to prove out new ideas and concepts. Use these prototypes to validate with users, gain traction from management, or simply to give your team more vision.
Hiring Your Own Team
Need to hire more designers but don't know how to assess someone's skillset? Most people don't think to ask for help with this, but it can be a huge plus when staffing your team. Consult with an outside design partner to outline job requirements and vet potential candidates.
Choosing a Design Partner
Finding the right design partner isn't just about doing a quick Google search. Look for someone that fits well with your team and has the right experience. In case you don't know where to start, here's a few tips to look for:
Technical expertise – Enterprise-grade design is about more than making something look pretty. It involves working with existing frameworks, technology, and constraints. Find a partner who has an understanding of enterprise development as well as a flashy portfolio.
Experience at your scale – Designing for ten users is different than a thousand. A five page webapp is different than an entire software suite. Find a partner who has real experience working at the same scale as your product.
Design systems – The secret to scalability is to utilize a design system. Whether you already have one or need to build one, find a design team who has experience leveraging a system to build an extensible application.
How SitePen Can Help
As if you didn't see this coming. As pioneers of JavaScript development, SitePen is usually known for technical expertise. But few people realize that we have an equally capable UX team that puts the polish on our projects. When it comes to enterprise design, we check all the boxes. So no matter what problem you're facing or what stage of development you're in, our team of talented designers are ready to jump in and help. Give us a shout and together we'll come up with something that is truly outside the box.