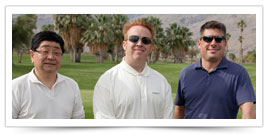 Dylan arrived in Palm Springs on Saturday with hundreds of other ESRI Partners just in time to participate in the Jim Christoffersen Golf Classic. The four-player shamble event took place on the south course at the Indian Canyons Golf Resort. Dylan had the honor of golfing with the founder of ESRI Japan, Chiharu Masaki, and meeting many ESRI partners from around the world. The five hour event was enjoyed in the almost perfect Palm Springs weather, and Dylan reports that his golf game "wasn't that bad".
On Sunday, Dylan was impressed with ESRI's high quality presentations, excited to learn more about ArcGIS Online, delighted to meet ESRI partners from all around the world, and was treated to dinner and a poolside contortionist show.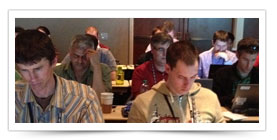 Yesterday, 30 attendees jUMP'd into Dojo with Dylan during the pre-summit workshop. All attendees were treated to Dylan's Dojo expertise and his usual charismatic, energetic and hands on teaching style. Dylan tells us that the group asked lots of great questions, had quite a few good laughs, and he was encouraged by the enthusiasm of the group to learn Dojo. As the workshop came to an end, Dylan prepared to spend the next few hours in the exhibit hall at the SitePen booth. If you weren't able to attend our workshop at the ESRI conference, and want to jUMP into Dojo, check out our 2012 schedule of workshops.
Because our jUMP workshop and the exhibit hours overlapped, SitePen elected to take a minimalist approach to a booth. It seemed to be very well received, was appreciated by many attendees and deemed 'refreshing' in the sea of other grandiose company marketing displays. Dylan was able to spend a few hours at the booth demoing Dojo on various devices to a few dozen people, including Jack Dangermond, CEO of ESRI.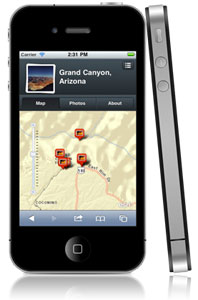 Today at 1pm, SitePen will be presenting the Top Ways that Dojo Will Improve your Mapping Application. We are confident that this brief presentation will be both informative and engaging. If you're attending ESRI's Dev Summit, we would encourage you to drop by and give us a listen. If you're not attending the ESRI Dev Summit, and need to know how Dojo will improve your mapping application, never fear. We will post the presentation on SlideShare later today.
Be sure to follow SitePen on your favorite social network!