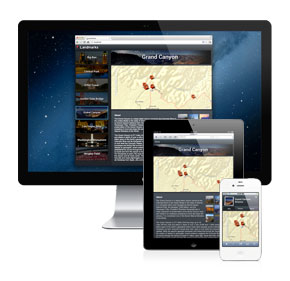 The 2012 ESRI Developer Summit is attended by 1,700 developers, half are attending for the first time and thirty percent are from international locations! Dylan continues to mingle with like-minded Dojo enthusiasts from around the world, including people from the US, Canada, UAE, Japan, England, Germany, France, Switzerland, Sweden, Australia, New Zealand, and the Netherlands! The conversations at ESRI Dev Summit are confirming what we already know – Dojo is worldwide!
Yesterday, Dylan presented Top Ways Dojo Can Improve Your Mapping App to a standing room only crowd! Using an iPad, iPhone and MacBook Pro to present the talk and demo, Dylan was able to accurately showcase the cross-platform open web capabilities of Dojo. We've posted the presentation and encourage you to take a look. SitePen will answer any questions you have about Dojo and mapping. Contact us to learn more.
The Summit continues today with lots of great presentations and tonight attendees will be participating in the ESRI Dodgeball tournament, sponsored by SitePen. Good luck to everyone!