Now in its 7th year, Web Summit is the world's largest web conference, with more than 50,000 people in attendance. The conference possibly draws inspiration from SXSW Interactive, with a European twist. Each year it brings an impressive agenda of speakers and attendees from around the world. It has become an event that attracts startups and established companies, making it a hot spot to meet many people in the tech industry.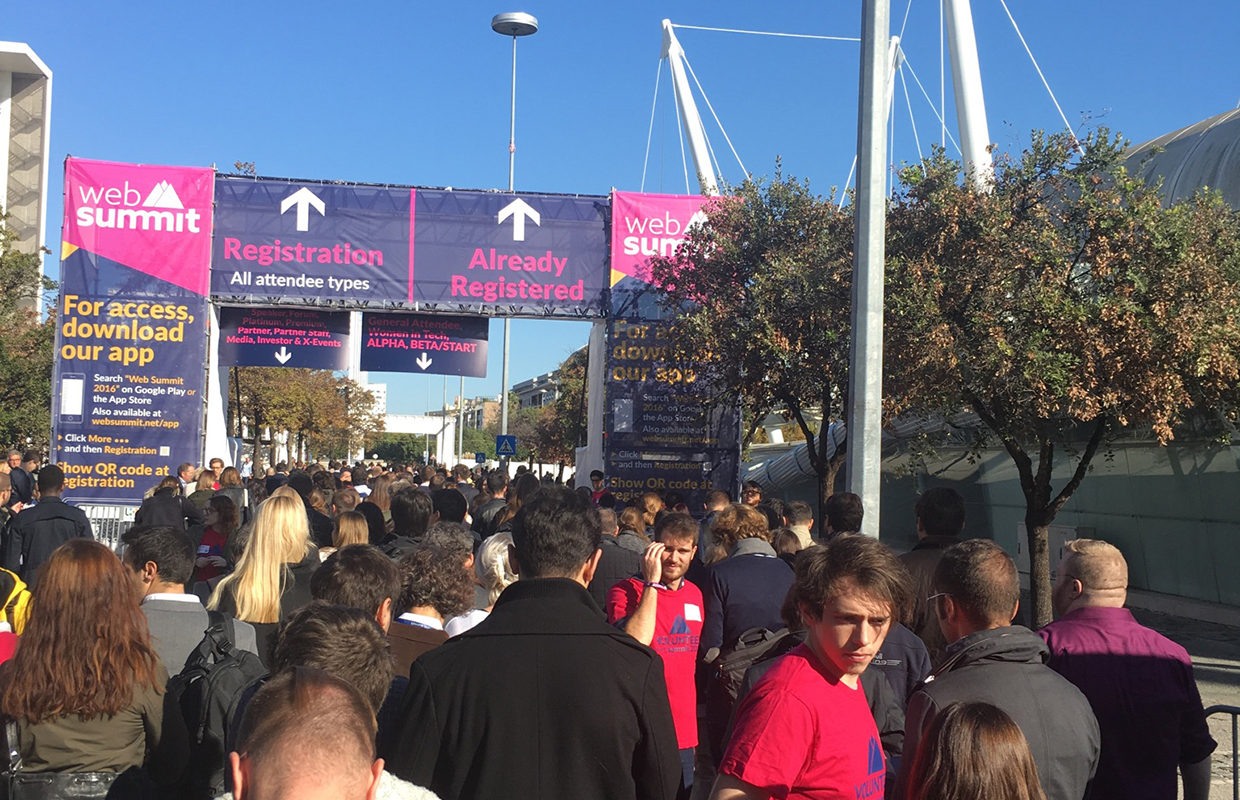 This year's Web Summit was held at the main football (soccer) arena in Lisbon, Portugal and the adjoining convention center. In the evenings, the Night Summit would take over substantial portions of Lisbon, along with several other events and parties. The conference has become so large that it is now possible to pick-up the conference badge at the airport.
The Web Summit app
Web Summit provides mobile and web apps for their conference. The app provides a chat interface, schedule builder, and more, which is incredibly useful with so many things happening in one week. Most large conferences do not come close to offering such a useful app experience.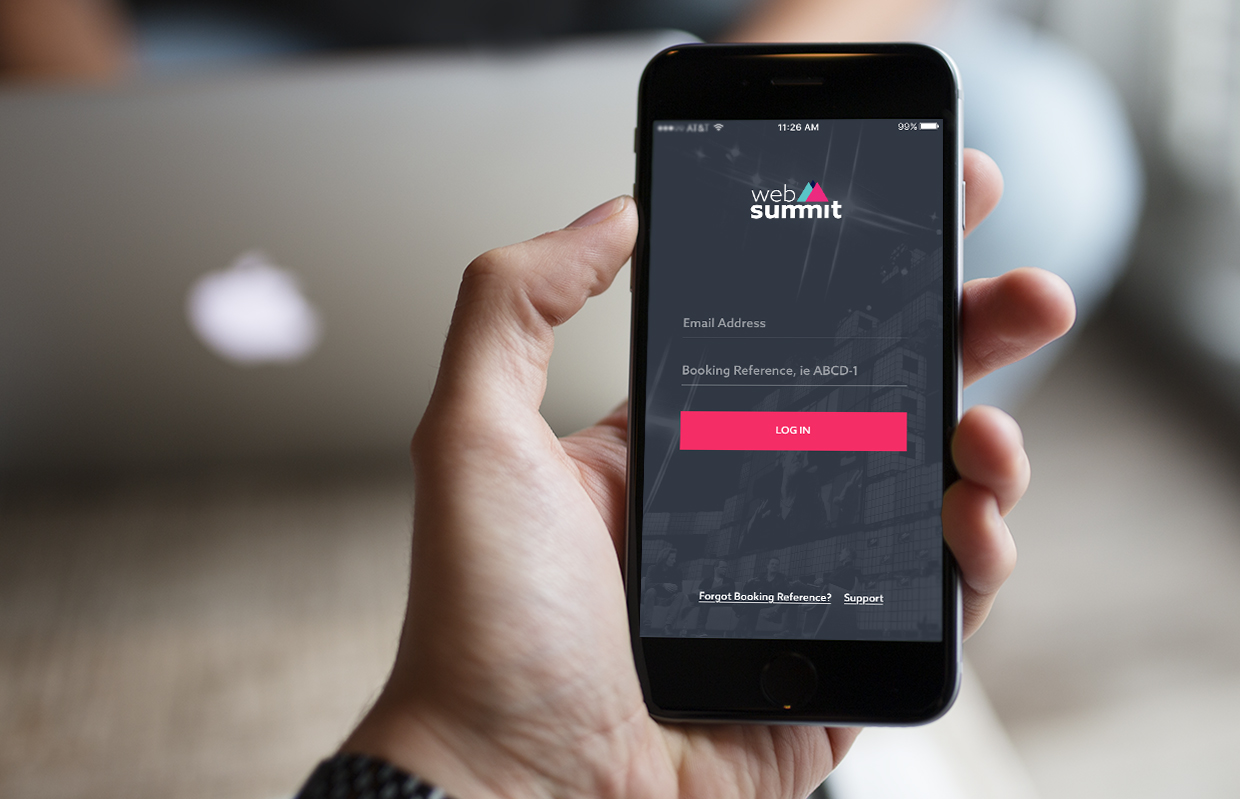 Monday
Web Summit began on Monday evening. Before the opening ceremonies, there were several pre-summit events. I attended a startup tour organized by Beta-i, a startup accelerator. The event was a daytime startup crawl, where a group of us visited Lisbon-based startups. Our group met the team from Unbabel, a machine learning language translation platform; Seedrs, a crowd-funding equity platform; and Aptoide, an alternative Android app store platform. We had a great time learning about their businesses and the challenges they're working to solve. The event also highlighted the efforts being made to make Lisbon an active tech center.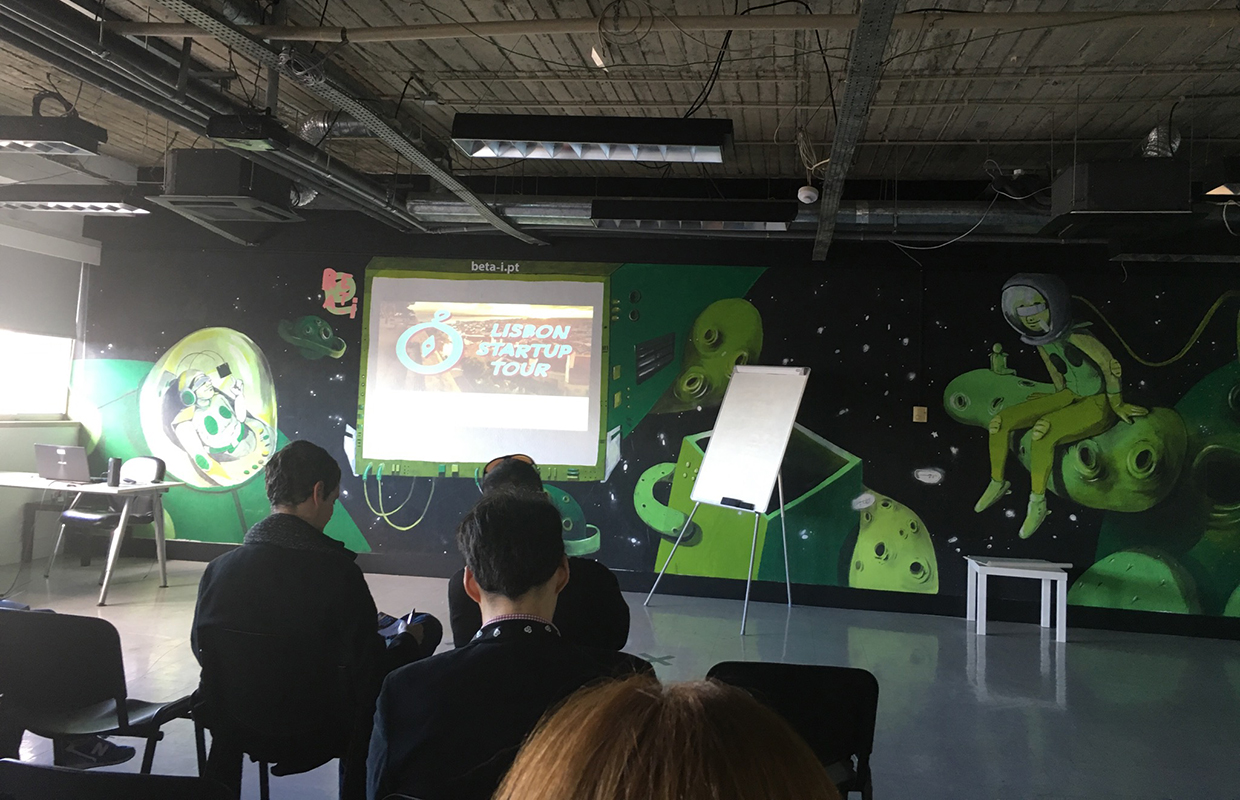 In the evening, SitePen co-hosted a dinner with Bocoup at Can the Can, which was attended by a variety of interesting attendees representing a variety of web technology companies. Each evening at Web Summit is Night Summit, where a large number of participants visit particular parts of the city for dinner and drinks.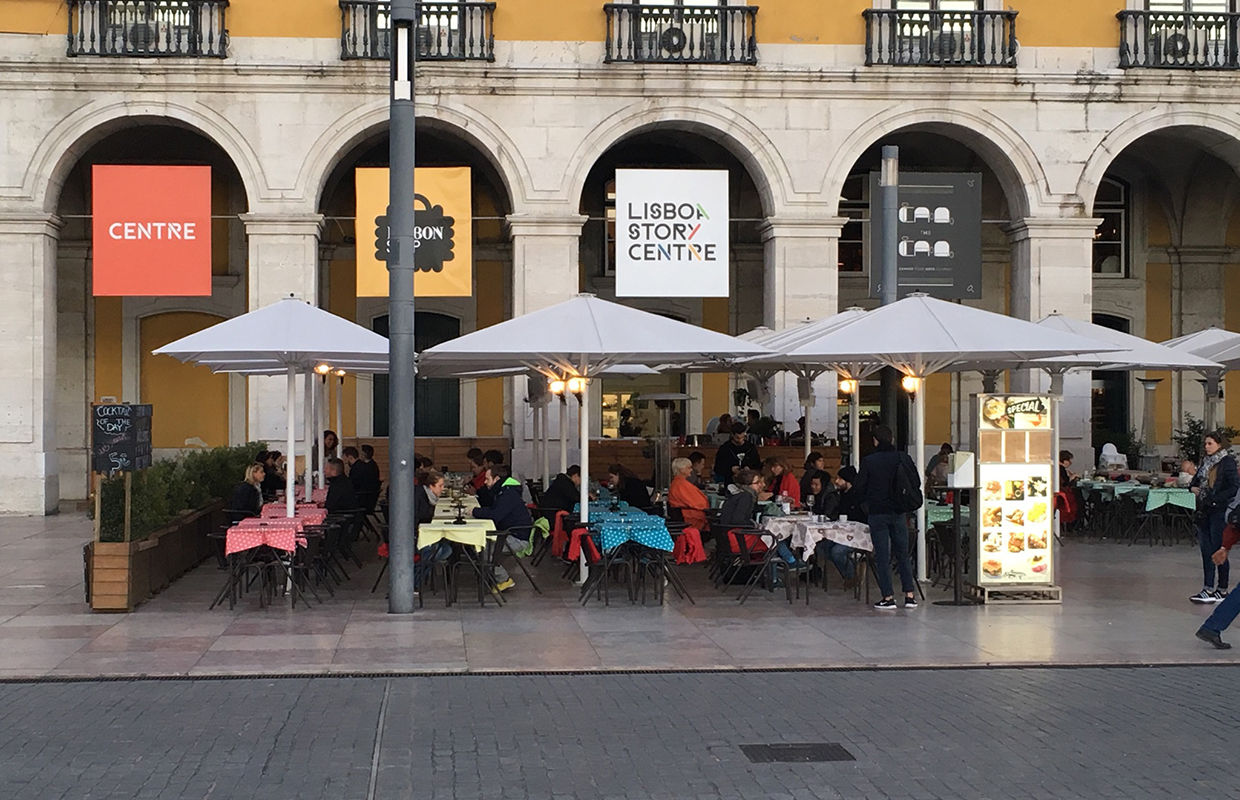 Tuesday
The first full day of the conference was on Tuesday. In the morning, after Mike Schroepfer's opening keynote (Ten years from Now), I visited with many companies at their booths and made my way through rather passionate crowds. I then enjoyed the Revolutionizing processes and driving efficiency panel, which featured Gaurav Dhillon of SnapLogic. Gaurav was CEO at Informatica, where we first started working on Dojo in 2004! After much discussion about how to make things work correctly in an enterprise, Gaurav explained that large enterprises cannot do everything ideally, and instead almost everything is a retrofit job rather than being able to start from scratch.
Among the many tracks was SportsTrade, and I watched former San Francisco 49er Terrell Owens talk about Building a brand on and off the field. After much talk about his NFL career and trying to live up to Jerry Rice, Owens explained that his approach to brands was about connecting with his fans. He also briefly discussed his current startup, Mixonium, a platform for bands and celebrities to manage their social media presence.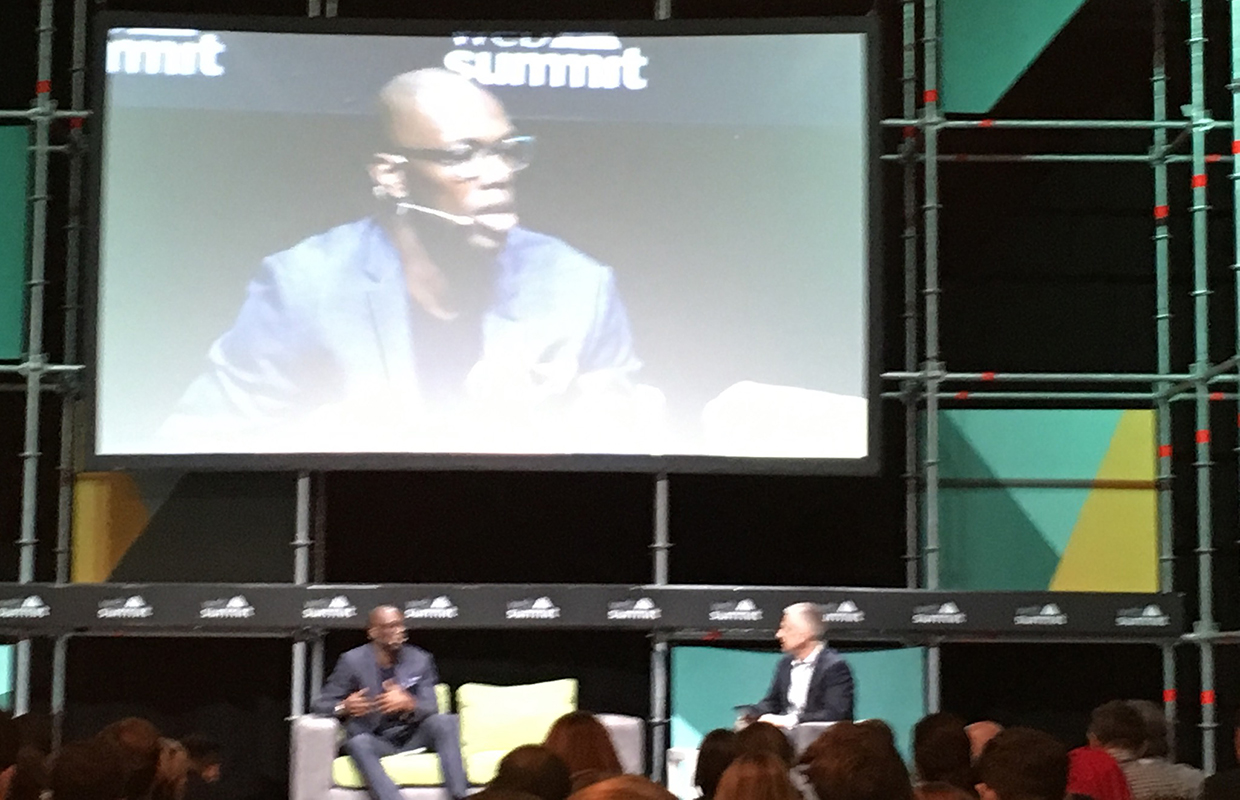 I spent the afternoon in a series of meetings, and then attended the Web Summit Chill Out event in the evening. Set in a traditional Portuguese manor, the event gave ten startups the opportunity to share information about their startup and ask questions from a small group of attendees. It was a fun way to give feedback that will hopefully help these startups thrive. During my sessions, I gave feedback to a company working on a new process for recycling and a company working on an alternative platform for co-working space.
After this event, we enjoyed dinner and a conference party at the Mercado da Ribeira Time Out.
Wednesday
Wednesday morning was spent with several conference attendees talking about the outcome of the US election and the afternoon was spent in a variety of meetings. Several great discussions were held, and the Nasdaq Opening Bell was rung from Web Summit.
Thursday
On the final day of Web Summit, I had several more meetings and listened to David Needham (founder of JetBlue, currently involved with Azul and TAP Portugal) talk about innovation in the airline industry. Mr. Needham's airlines were the first to offer ticketless air travel and inflight live TV, and he's currently working to innovate the experience and business model of the airlines he's now helping run. Airbus and TAP Portugal had a nice booth next to the talk, showcasing their latest business class seats, as well as a VR experience.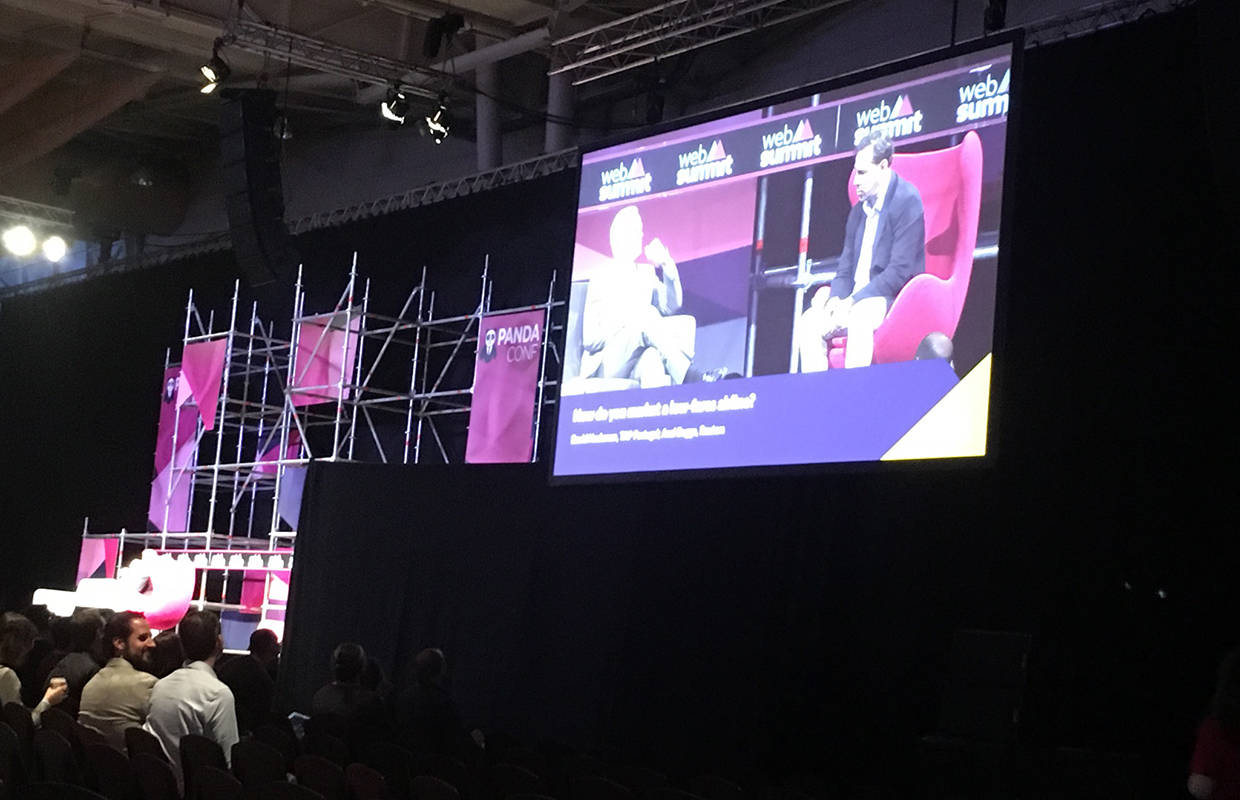 Kris Borchers of the JS Foundation led a panel discussion on open source to a packed crowd, along with representatives from Intel, Google, and the Linux Foundation. They discussed how to overcome open source apprehension ("Don't be afraid to release bad code"), how we all benefit from open source, and more.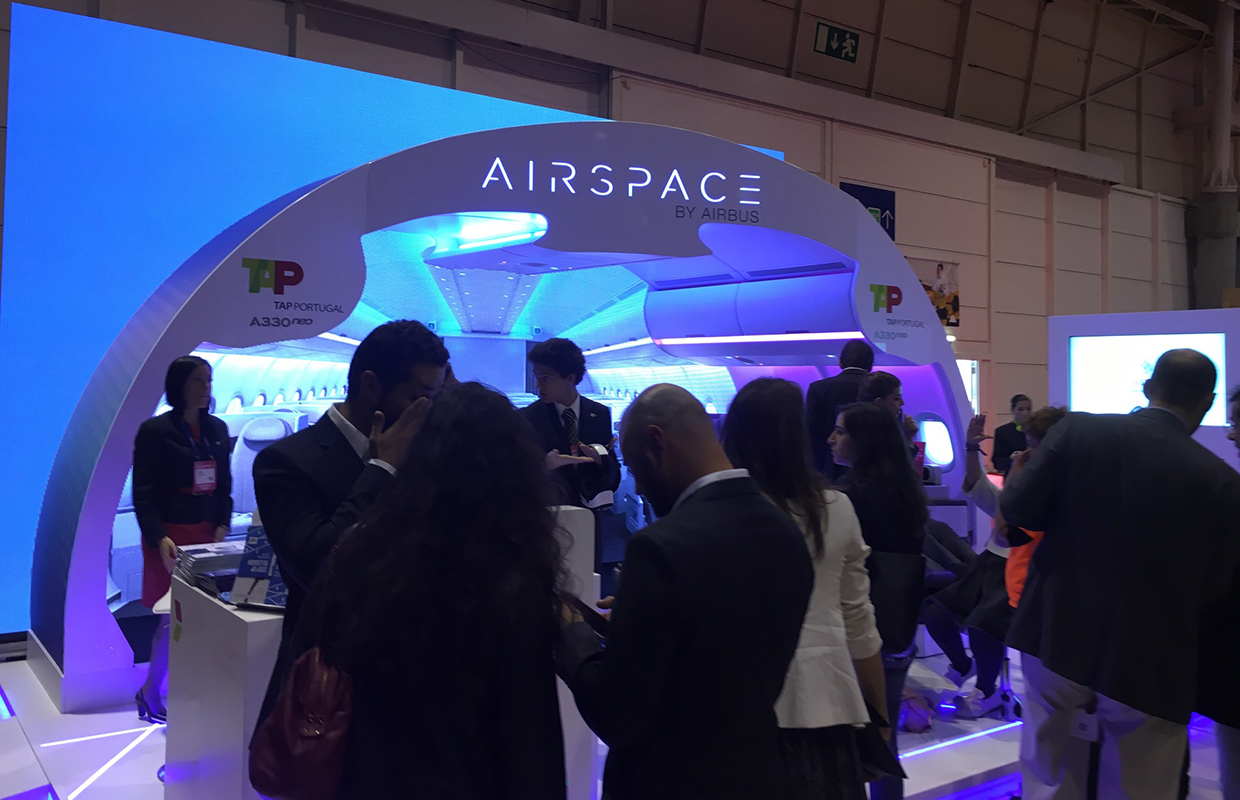 Web Summit was concluded with a talk from the founder of Hyperloop One, a company attempting to bring Elon Musk's Hyperloop concept to the market in Dubai, followed by a final evening of the Night Summit.
Summary
Web Summit is a large event, which brings the challenges of large crowds and trying to offer something for everyone. While the organizers are a bit over the top with their marketing and sales efforts, they provide an event where it is easy to meet many great people in a short amount of time. The event brings together people involved with the web from all over the world, with large contingencies from Europe, North America, South America, and Africa. It was incredibly impressive and inspiring to see how people from all over the world are so engaged in building great web technology.
SitePen attends events like Web Summit to meet more people and to talk about how our services help organizations achieve more from the web. We hope to see you at a future event!